Big Brother remains the key political issue of the day. Pah to such trivia as war, corruption, storms, global warming, etc.
Gordon Brown's trip to India has been rather overshadowed by ShilpaGate. Hmmm, is that ths sound of spinning I hear? Surely no-one in the government would want to deprive the Chancellor of publicity? Have I just watched one too many episodes of "The Thick of It"?
David Milliband sez 'Jade out'.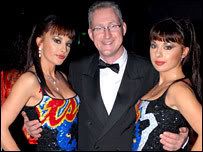 On a happier note, Lembit and Gabriela have been
welcoming 'Hello' readers
to their beautiful home.