Starting tonight on 5 : "
So You Think You Can Nurse?
"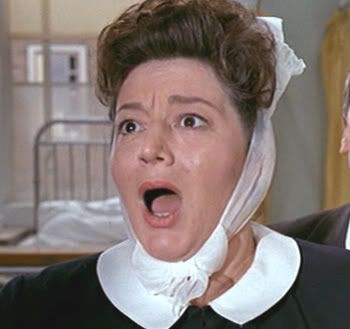 Writer and broadcaster Janet Street Porter, TV presenter Gail Porter and comedian Sean Hughes have been given full access to working wards in Barnsley General Hospital to experience first-hand the daily challenges of being a National Health Service nurse. The celebrities will be taking part in this life-changing experience of operating as auxiliary nurses-in-training for two exhausting weeks at the hospital.

.......

Janet Street Porter, known for her strong opinions on the NHS will be assisting expectant mothers, helping the midwives with births and c-sections in the maternity wing.

FFS. If Janet SP had approached me with a camera crew while I was having my labour & caesarean section, I'd've told her to feck right off.
Oh yeah big brother etc etc. Shilpa won, Jade's had a breakdown and gone into the Priory, Jo says it's ruined her life and is being comforted by Fergie (!) and Danielle got dumped by Teddy and her modelling contracts.
Anyway we're so over that, now on to exciting news wot I heard on the wireless this morning: Celebrity Apprentice! With Jo Brand! Thank you tv deities for smiling on me.