Oh no not more knickers. Someone on the Project Catwalk production team really, really likes seeing tall emaciated women strutting about in high heels and panties, they've already done a bikini 'challenge' and then this week they're designing underwear for Caprice.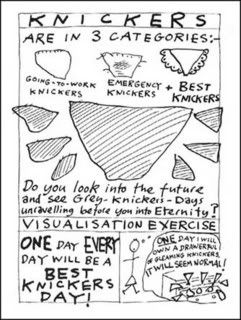 Wayne's effort was v. poor, more Primark than Fetish Wear Designer of the Year. Giles seems to be turning out to be a bit of stereotype homosexualist fashionista who doesn't like women. Poor Monika had a vile cold and got the wrong measurements so made a too small bra, but she still rocks and should've won. If she doesn't make the final it will be a travesty. Luke won the challenge, Fatz got chucked off, not surprising as her knicknacks were too small and her bra a bizarre shape. How on earth do you manage to cut your clothes too small to fit a catwalk model? And how come you don't leave a good margin just in case, like my mum taught me during her futile attempts to teach me dress making.
I suspect much toupe tape was used to keep those bras in place. You can tell my taste in unmentionables is more M&S than S&M by the fact that during the catwalk, I was most worried that the knickers they made were going to be scratchy and/or give the poor models thrush. Cotton gussets, people, cotton gussets.
Julien's hair is looking very fetching this series. Kelly should ask for the name of his stylist. And his colourist, I fear she's still letting
Cousin Terry
loose on hers.